Injury Bug Bites Jack Flaherty and Alex Reyes
Another year, another season with questions for the St. Louis Cardinals starting rotation after injuries to Jack Flaherty and Alex Reyes. Only a couple of days into Spring Training, Jack Flaherty was diagnosed with bursitis in his throwing shoulder and a small SLAP tear at the junction between his shoulder and biceps. Alex Reyes was diagnosed with a frayed labrum.
Flaherty received treatment for inflammation from the bursitis and will not throw for the next two weeks. According to Cardinals president of baseball operations John Mozeliak, the team has known about the SLAP tear for the past five seasons and noted Jack Flaherty has already been pitching through it. After the two weeks, Flaherty will be reevaluated to determine how much longer he will need to be prepared to rejoin the rotation. This almost ensures that Jack Flaherty will not be a part of the Cardinals' Opening Day roster.
Alex Reyes will be out for even longer than Flaherty, as his freyed labrum could keep him out for multiple months. Reyes, who spent most of the season last year as the Cardinals closer, was known to be looking to fight for a starting rotation spot. Unfortunately, this injury will set those dreams back even further as lower pitch counts in the bullpen make more sense when he comes back from a multiple-month injury.
The Cardinals are no stranger to starting rotation injuries. Last year, it was Miles Mikolas, Jack Flaherty, Kwang Hyun Kim, Jordan Hicks, and Dakota Hudson all dealing with injuries. This led to trade acquisitions such as Wade LeBlanc, John Lester, and J.A. Happ. Thanks to a record-setting 17 game winning streak, these adjustments helped the Cardinals snag a Wild Card spot in the NL Playoffs. So how will the Cardinals handle the issues this year?
Who Joins The Rotation?
Currently, the Cardinals projected rotation includes the career Cardinal Adam Wainwright, returning veteran Miles Mikolas, newly signed free agent Steven Matz, and Dakota Hudson, who returned from Tommy John surgery at the end of the 2021 season. Flaherty would have been the 5th piece, and more than likely Ace, of the staff. But now the Cardinals look to find a fill-in while Flaherty recovers.
New Cardinals manager Oli Marmol said "It's completely wide open. Everyone has a shot at it." So who is included in Marmol's statement of "everyone"?
Jake Woodford
Woodford made some spot starts for the Cardinals last season, while mostly being a swingman/long reliever. Across 26 appearances, including 8 starts, he posted a 3-4 record with a 3.99 ERA. He was more than likely destined to continue the same swingman role this season but now has a chance to show he can fill in the open spot in the rotation.
Drew VerHagen
The Cardinals made VerHagen the first official signing in the MLB after the lockout ended, expecting him to be another candidate for the swingman role who could also potentially start. VerHagen spent the last two years in Japan after a less than impressive six-year stint with the Detroit Tigers. This follows a trend of pitchers from Asia the Cardinals have signed, including Mikolas, Kim, and the next player on our list.
Aaron Brooks
Another signing from Asia, Brooks was pitching in the South Korean KBO for the last two seasons. While not a strikeout pitcher, he posted an impressive 2.79 ERA as a starter in Korea which earned him a minor league contract with an invitation to Spring Training from the Cardinals. He fits the Cardinals' desire to add groundball pitchers to the mix.
Johan Oviedo
The young Oviedo showed flashes of what he could be as a starter in the majors last season as one of the many injury fill-ins. Unfortunately, more often than not he struggled with his command, walking over five batters per nine innings pitched. The Cardinals shifted their focus to having pitchers who limited walks at the major league club, forcing Oviedo back to the minors. Now, Oviedo has another chance to see if he can stick at the majors.
Matthew Liberatore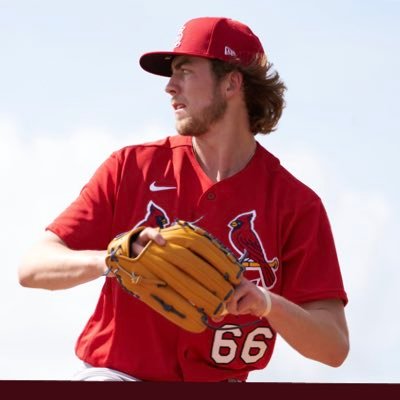 The Cardinals' number one pitching prospect spent most of the season at AAA Memphis last year, and it seems only a matter of time before he breaks into the majors in the Cardinals rotation. But is now too soon? The Spring will give Liberatore more chances to show what he can do against Major League hitters, but the Cardinals have to decide if they are going to risk rushing him to the majors for a Flaherty injury that may not last more than a month or two.
Outside Options
Some free agents remain available to fill a starter role, including the previously mentioned J.A. Happ, who filled a starter role for the Cardinals last season. There are also some other starters including Drew Smyly, Zach Davies, and Johnny Cueto. Imagine how crazy social media would be if Cueto, a former Cincinnati Red, ended up in St. Louis after so many years of pitching against the Cardinals?
There is also a potential trade opportunity. The Oakland A's continue to look at offers for starters Sean Manea and Frankie Montas. The A's have already moved their star pair of Matt Olson and Matt Chapman this offseason, and are not done gathering prospects in a rebuilding effort. No news on if the Cardinals are one of the teams interested, but it remains an option.
Who Will Be The Fifth starter?
Looking at the recent Cardinals transaction history, they are not ones to make reactionary trades for big names. So I am counting out a trade with the A's for Manea and Montas. They have already added a few free-agent pitchers with the purposed of building depth for the rotation, so they won't be reaching to make another free-agent signing.
This leaves the in-house options of Woodford, VerHagen, Brooks, Oviedo, and Liberatore. Liberatore has yet to make his major league debut. While he should make that debut this season, it won't be as a part of the Opening Day roster. However, that could change if he plays well at Spring Training. Ovideo still has a lot of question marks with his command. Brooks is better suited for a bullpen role with his high groundball rate.
This leaves Woodford and VerHagen as the top candidate in my eyes as the ones to fill the rotation spot. I will give the slight edge to Woodford to break camp as the number five starter. VerHagen will be in line to take the reigns if Woodford struggles to start the season.
But we all know, all eyes will be on Flaherty as the Ace will be re-evaluated in two weeks to determine how much more time he will miss to start the season. Until then, the rest of the rotation will have to step up if the Cardinals are to compete in the NL Central.