Sunday was an extremely frustrating day for the Philadelphia Eagles on the road at Lucas Oil Stadium. They trailed by six points to the Indianapolis Colts. The offense was stymied by a confluence of mistakes and penalties that grounded Jalen Hurts. The attack halted in the first half, and a pair of giveaways halted drives, leading to Colt's points in the second half. The defense allowed a first-possession touchdown drive and hung tough for the remainder of the game.
How Eagles Stole A Victory In Indy!
It came down to the final 4 minutes and 37 seconds. Indianapolis led by those six points against an Eagles offense that had scored 20 or more points in 14 consecutive games but had just ten on as many drives on Sunday. And in the end, an Eagles offense that struggled all game put together a brilliant 75-yard touchdown drive, and a defense that started slowly finished with a flourish. Philadelphia pulled it out, 17-16, to move to 9-1 in this marvelous season to date.
"Sometimes, you have to win that way. It may not be pretty, but you find a way to win and that's all that matters," said defensive end Brandon Graham, who came up with a key quarterback sack on the final defensive drive to preserve the win. "We would love to make them easy, but this is the NFL. Sometimes, you have to win on the edge of your seats. I'm sure our fans have no nails left. Hey, we were the same way on the sidelines on the last drive, but we have Jalen (Hurts) that guy, man, he can ball out and he did just that." Brandon Graham – Philadelphia Eagles
Hurts took the snap and raced through a huge hole up the middle – even though the play was designed to head outside, good interior blocking opened up a gap inside, and Hurts hit it – for his 21st touchdown run since 2020 and his eighth of the season to cap an 11-play, 75-yard drive that consumed 3:17. Jake Elliott added the PAT to give the Eagles a 17-16 lead with 1:20 to go in the game.
The defense had to hold, however. One more hold, that's all. Matt Ryan's pass on the first down was incomplete. On second and ten, Ryan found Parris Campbell for a first down out at the 39-yard yard line. And that would be all the Colts could muster. The pass defense covered down the field, Graham came up with a huge quarterback sack – using a bull rush to get to quarterback Matt Ryan from his blind side – and the Eagles came back from ten-plus points down in the fourth quarter for the first time since that remarkable DeSean Jackson punt return game at the Giants in 2010.
Final Score, Eagles 17, Colts 16.
"This what I came back for, exactly this," new defensive tackle Ndamukong Suh said. "A team win. A comeback win. You learn a lot about a team when you win like this. This is a resilient team, a tough-minded team that can win games in a lot of different ways." Ndamukong Suh – Philadelphia Eagles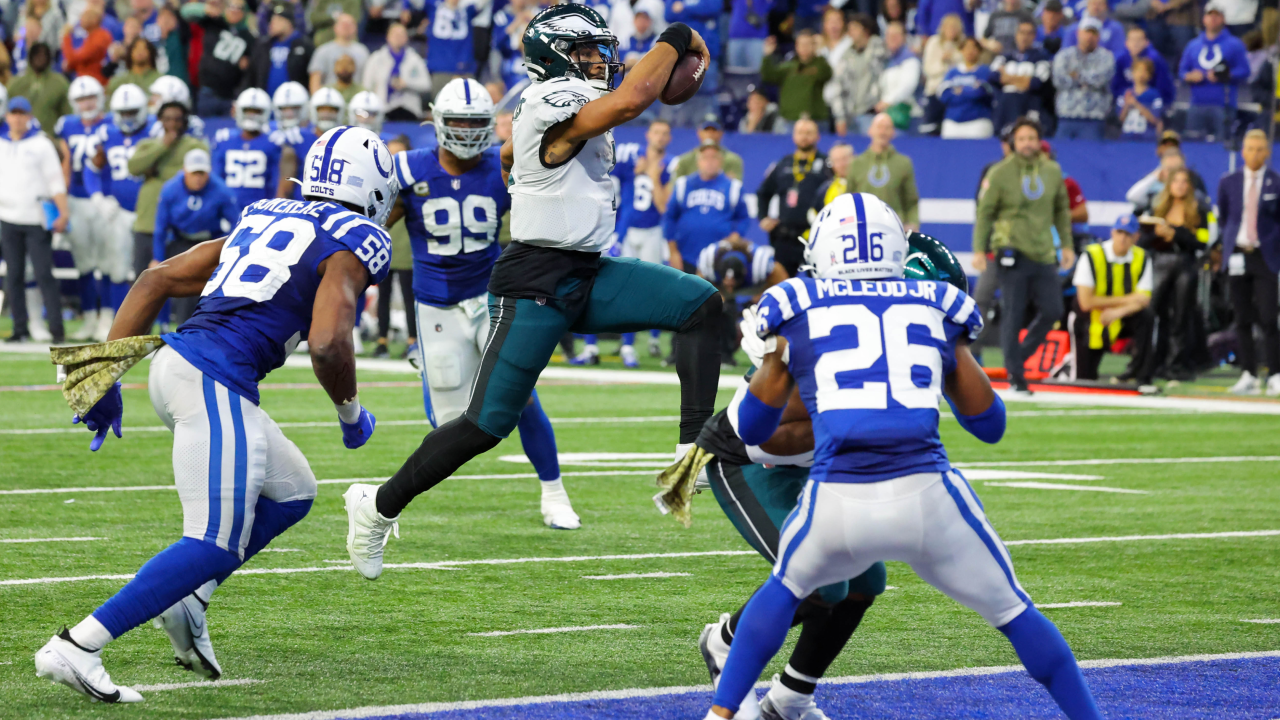 "There was never a doubt," Hurts said of the team's mindset going into the final drive. "We never wavered. Throughout the game, there were things that did not go our way in terms of our execution and we put ourselves in a bad position, but we were never out of the fight. There was never any doubt because of the belief that we have in one another." Jalen Hurts – Philadelphia Eagles
"This is his team. He's the man," said wide receiver Quez Watkins, who hauled in a 22-yard touchdown pass to get the Eagles into the end zone in the fourth quarter. "He is always cool, always calm, and today he lifted us to a huge win." Quez Watkins – Philadelphia Eagles
What To Look Forward To In Week 12
Green Bay Packers vs. Philadelphia Eagles Results
Historically, in all regular season and postseason games played between the Green Bay Packers and Philadelphia Eagles. The two teams have met each other 45 times (including three postseason games), with the Green Bay Packers winning 28 games and the Philadelphia Eagles winning 17 games. However, this season we have an Eagles (9-1) going head-to-head with the Packers (4-7), indicating a solid standing to enter Week 13, 10-1. And that's… "The Lex Of It"
Green Bay Packers lead the series 28-17-0