The Giants, now 7-3, experience a devastating loss to the Lions. Big Blue lost to the Lions, 31-18, at home at MetLife Stadium today. This third win for Detroit is the first time since 2017 to win three consecutive games. Oddly enough, this also makes it the third straight loss for the Giants to the Lions.
What We Have Learned About The New York G-Men
Big Blue's Offense
Daniel Jones completed his first five passes for 65 yards and ran in his fourth touchdown of the season from three yards out on the game's second drive. Then, D.J.'s streak of 154 consecutive attempts without an interception ended at the hands of Lions' Rookie Defensive End Aidan Hutchinson, the second overall pick in this year's draft. The Lions scored a touchdown on the ensuing possession for a 10-6 lead, one they never relinquished.
Daniel Jones threw a second interception to safety Kerby Joseph after having only two in his first nine games this season. Rookie DE Aidan Hutchinson also recovered a fumble by wide receiver Isaiah Hodgins midway through the fourth quarter for the Giants' game's third turnover.
"Obviously not the outcome that we wanted," coach Brian Daboll said. "It's hard to win a game when you have three turnovers and don't get any. Some things we did well but not good enough. Give Detroit credit for the win."

"He didn't see him," Daboll said about Jones' first interception. "He dropped. It was zone pressure. He dropped right into it. He saw Slayton coming across. Didn't see Aidan, and he made a good play on it. Next one was (an) overthrow. They made the play, and then we turned the ball over there as we were trying to come back on a fumble there." Brian Daboll – New York Giants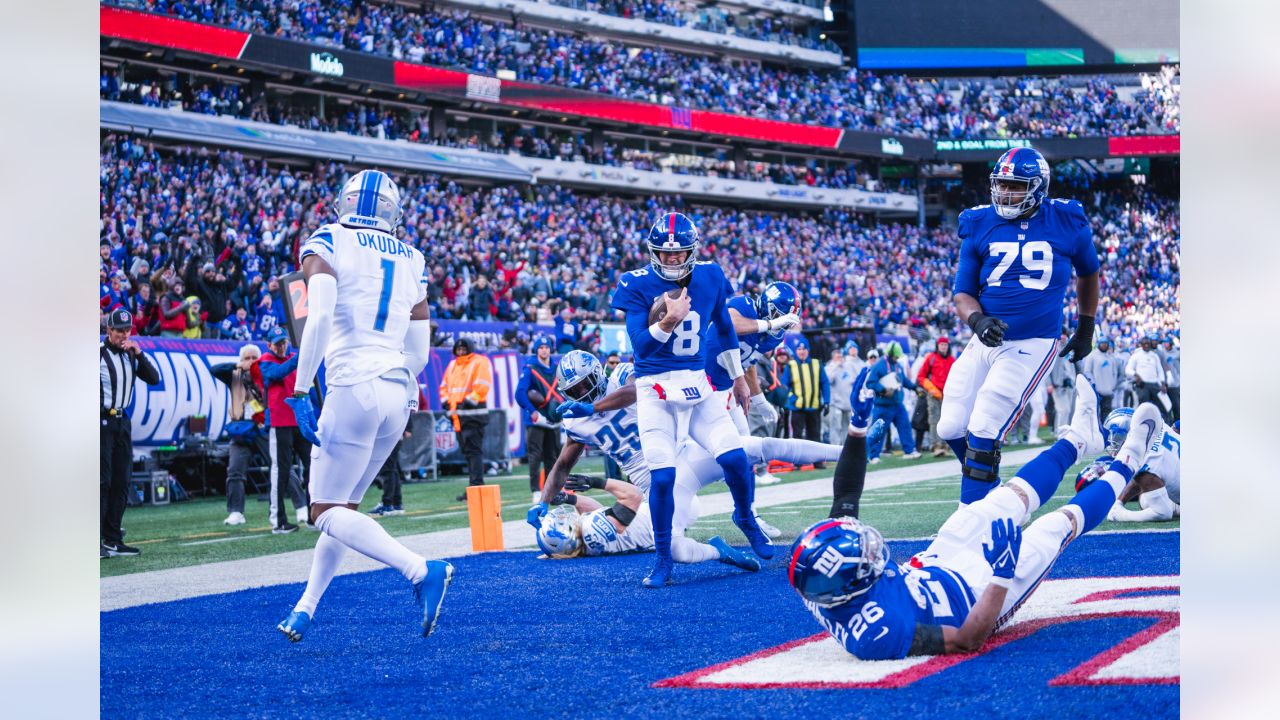 "Yeah, didn't see him there. Got to see it, bad decision there. Good play by him, can't afford to do that…" Jones said about Hutchinson's interception. "Just got to see him dropping out. Can't afford to make that decision." Daniel Jones – New York Giants
Saquon Barkley, who led the NFL in rushing through 10 weeks, was held to 22 yards on 15 carries, with a long of just four yards.
"They did a good job up front," said Daboll. "They won up front. (They) made tackles in space. You know, bottled up the run game pretty good. That's obviously a big part of what we do." Brian Daboll – New York Giants
"Credit to Detroit – they had a good plan and stopped us in some areas that we've had success," Jones added. "I think credit to them, but we got to look at ourselves and see where we can execute better." Daniel Jones – New York Giants
Rookie wide receiver Wan'Dale Robinson hauled in nine passes for 100 yards exactly, both the highest totals of his young career. Unfortunately, the day was spoiled when he suffered a knee injury on his final catch and did not return. Wide receiver Kenny Golladay, who hadn't had a catch since Week 1, recorded two for 29 yards.
Rookie right tackle Evan Neal missed his third consecutive game due to a knee injury he suffered in Week 7. Starting again in his place, Shane Lemieux, who spent the season's first eight games on injured reserve with a toe injury, started at left guard, where Joshua Ezeudu had done so the previous two games.
Center Jon Feliciano suffered a neck injury in the second half and was replaced by Nick Gates, who played in his third consecutive game after returning from a gruesome leg injury sustained in 2021. Tyre Phillips went down in the first half with a neck injury and was replaced by Matt Peart, who made his 2022 debut just a week ago.
Where's the Defense?
New York Giants Corner Adoree' Jackson suffered a knee injury while returning a punt in the first half and did not return. Rookie Corner Cor'Dale Flott replaced Jackson on defense. Defensive back DB Fabian Moreau also left with a rib injury.
Coach Brian Daboll used the word "explosive" four times in his Wednesday media availability in reference to the Lions, who were one of three teams that had three games with 35+ points in 2022 entering Sunday. They saw that up close at MetLife Stadium, where five different Lions had catches of 10+ yards, and three had runs of 10+ yards.
Jamaal Williams had three rushing touchdowns against the Giants, who had allowed just five on the ground in their first nine games. Swift ran in a fourth as the Giants allowed a season-high 31 points. After recording seven sacks in their previous two games, the Giants generated none on Sunday with just three quarterback hits.
"They did a good job," said Daboll. "What did they have, 160 yards rushing? (They're) efficient in the pass game. (They had) 325 yards. (They were) six-of-13 on third downs (and) four-of-five in the red zone. I'd say, overall, they just executed really well." Brian Daboll – New York Giants
Special Teams' Oh My!
A combination of Detroit Lions' Defensive Lineman John Cominsky's outstretched hand and a gusting wind led to Graham Gano missing an early extra point wide right. After the Giants' second touchdown early in the fourth quarter, Gano hit the right upright for another unsuccessful extra point attempt. Jackson had assumed a share of punt duties for the second consecutive game.
Players Injured In Todays Game
Atop an already robust Injury List heading into today's game, the Giants rookie receiver Wan'Dale Robinson was taken out of today's game early in the fourth quarter against the Lions with a knee injury. Robinson, a second-round pick in April's NFL draft, sustained the injury in the second half against Detroit after accumulating nine catches for 100 yards. According to multiple reports, Robinson could not put any weight on his right leg as he helped him to the locker room. Robinson missing time this season is nothing new. He suffered a knee injury in the season-opener against the Titans to return in Week Six against the Ravens.
Robinson's injury is the latest in a growing list of woes for the Giants. Today's in-game injuries include cornerback Adoree' Jackson earlier in the day with a knee injury, offensive tackle Tyre Phillips (neck downgraded to OUT), center Jon Feliciano (neck), and defensive back Fabian Moreau (ribs early in the third quarter) also suffered injuries.
"Tough to see him go down," Jones said about the rookie wide receiver. "I thought he played really well today, made some really big plays for us throughout the game. To see him go down like that is tough and feel for him. We've had guys step up and play well throughout the year, so it won't be any different here. We all got his back and supporting him for sure." Daniel Jones – New York Giants
N.Y. Giants vs. Detroit Lions At A Glance Over The Years
Here's the breakdown of all regular season and postseason games played between the New York Giants and Detroit Lions. The two teams have met each other 47 times (including one postseason game), with the New York Giants winning 21 games and the Detroit Lions winning 25 games. They have also tied one time.
Detroit Lions lead series 25-21-1
Call it a "Trap Game." Call it too robust of an injury roster for effective implementation and coordination of talent. It's time to shake off today's game. It's a short week heading into Week 12 and a guaranteed vigorous battle for the W. We need a high-speed-no-drag performance. And that's… "The Lex Of It"
---