The Giants will look to get back in the win column on Thursday when they travel to Dallas to take on the Cowboys in a Thanksgiving matchup. Big Blue endured a tough loss on Sunday as they fell to the Detroit Lions, 31-18, and saw several players go down with injuries. Short week for both NFC East teams, and the Giants have quickly turned the page to Dallas, who are coming off their most impressive win of the season.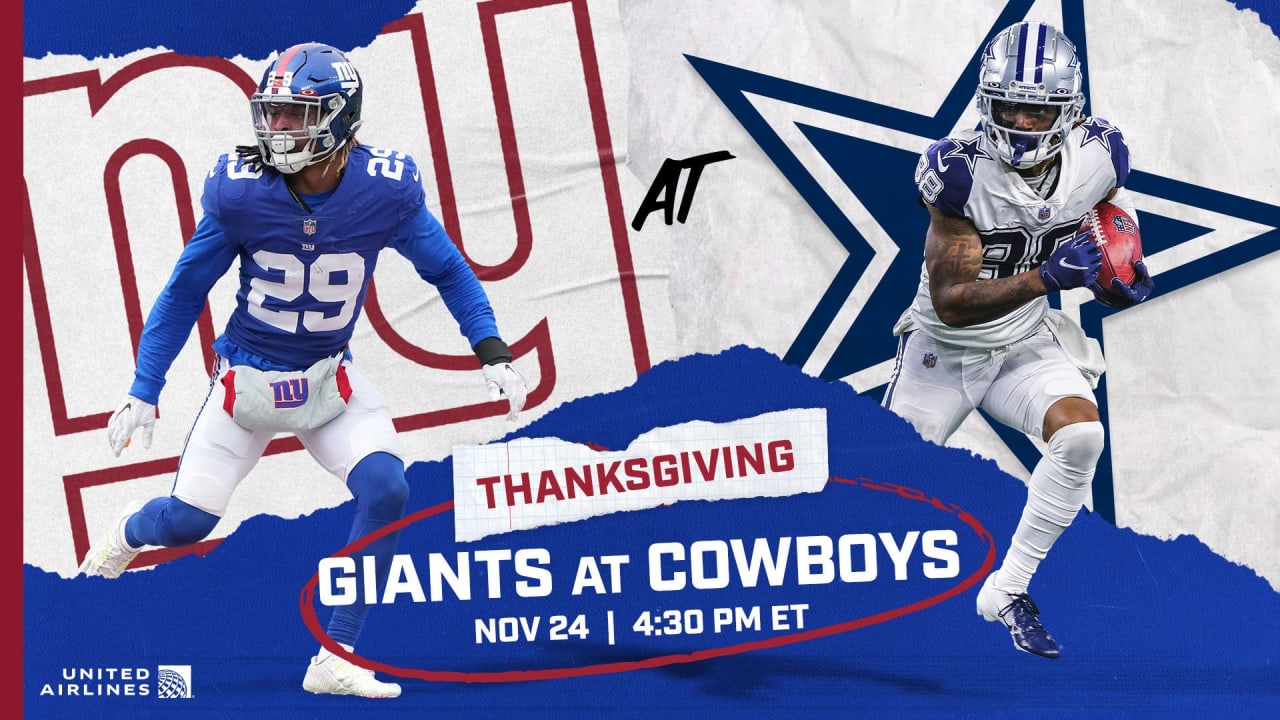 Giants-Cowboys Week 12 Preview
The Giants head to Dallas for a Thursday Thanksgiving Day matchup against the Cowboys.
The Cowboys picked up the victory in the first meeting between the two teams back in Week 3, 23-16. The Giants will look to even the season series on Thursday, their first of four consecutive games against division rivals.
Both NFC East teams enter this matchup 7-3 on the season. All four members of the NFC East currently hold a record above .500, with the Philadelphia Eagles leading the group at 9-1 and the Washington Commanders at the rear with a 6-5 record.
Next Man Up
The central storyline coming out of Sunday was the Giants' injury report. They lost six players during Week 11 alone: cornerbacks Adoree' Jackson (knee) and Fabian Moreau (oblique), center Jon Feliciano (neck), tackle Tyre Phillips (neck), safety Jason Pinnock (jaw), and wide receiver Wan'Dale Robinson, who was placed on injured reserve with a torn ACL. Daboll already ruled out Jackson and tight end Daniel Bellinger (eye), while the rest will be game-time decisions. The Giants have found a way more often than not this season, but everyone will have to help fill the void this week.
"When you're losing starters to injuries, that's going to be tough on any team," defensive lineman Leonard Williams said. "We have confidence in the guys who are going to step up in those positions, and we're going to do our best to let them know that we're confident in them so that they're confident on game day." Leonard Williams – New York Giants
Continue On What Works
Entering last week as the league's leading rusher, Saquon Barkley was held to a season-low 22 yards on 15 carries (1.5 yards per rush). The Giants' formula to success has been no secret this year. When they get unbalanced, they run into trouble. In the three games Daniel Jones had to throw more than 30 times, the Giants are 1-3 and have been outscored 97-66. The Giants will look to avoid falling into obvious passing downs against Micah Parsons and the Cowboys, who lead the NFL in sacks.
Turnovers
The Giants need to do more taking. They didn't have to dig deep to find out why they lost last week, as they turned over the ball three times and didn't force any on defense. NFL teams are 1-23 when they have a turnover differential of minus three or worse this season. The Giants are still optimistic about the season, but the Cowboys enter at plus-7, tied with the Vikings for third-best in the league.
Daniel Jones Vs. Dak Prescott
Giants Daniel Jones
Daniel Jones had season-high 341 pass yards & 2 TDs (one pass, one rush) last week. He has a 90+ rating in three of his four road starts in 2022. He aims for his third in a row on Thursday with a 90+ rating. Had 275 yards (196 passes, 79 rush) in Week Three meeting.
Cowboys Dak Prescott
Dak Prescott completed 22 of 25 pass attempts. (88 pct.) for 276 yards & 2 TDs vs. 0 INTs for a 139.3 rating last week. Has 28 TDs (26 passes, two rush) vs. four INTs for a 110.3 rating in his past 11 home starts. He has 1,393 pass yards (278.6 per game) & 9 TDs (seven passes, two rush) vs. a 98.4 rating in five career Thanksgiving starts. He aims for his third in a row on Thanksgiving with 350+ pass yards. He has 21 TDs vs. five INTs for a 100.1 rating in 11 starts vs. NYG.
New York Giants At Dallas Cowboys AT&T Stadium | Arlington, Texas 4:30 p.m.
This NFC East Division rivalry gets a rare Thanksgiving setting. The Cowboys and Giants are vying to stay afloat in the playoff race behind NFC East-leading Philadelphia. New York is aiming for the "W." And that's…." The Lex Of It"
---